Home
Contractors
Photos/News
Apprenticeship
Journey Upgrade
About Us
Contact Info
Benefits
In Memorium

MEWP / FORKLIFT COMBINED REFRESHER CLASS @ Encore Glass
Saturday August 20th, 2022
Scheduled times beginning at 8 a.m.
Space is limited, and the 1st members to sign-up will have a choice of time.
Please email or text Tricia to sign up!
GlaziersJATC@iupatdc5.org
This is a refresher only. If you require a full class, please let us know so we can schedule you for a different date.
PLEASE BRING YOUR HARNESS AND WEAR WORK CLOTHES, INCLUDING BOOTS.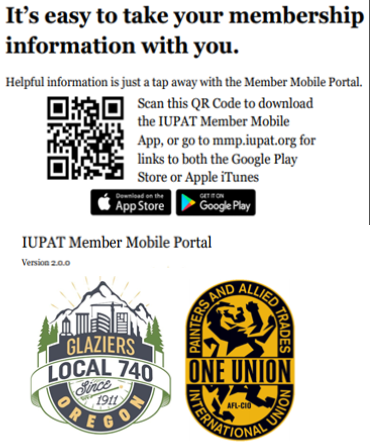 DEAR LOCAL 740 MEMBERS:
OUR OFFICE CONTINUES TO BE CLOSED TO ALL NON-STAFF. IF YOU REQUIRE IN-PERSON ASSISTANCE, CALL MIKE JAMES FOR AN APPOINTMENT.

CALL MIKE: (971) 219-9979
CALL OFFICE: (503) 255-3920
Our new administrative support staff are Shelby Lee & Nicole Swanson. Please welcome them when you call.
You can now pay your monthly dues over the phone using a credit or debit card between 9 am and 5 pm Monday through Friday. Please call the office line above.

You can also pay dues from anywhere at any time by going to IUPATdc5.org and following the link to "Pay Now". You'll need your member ID number.
Payments can also be mailed to:
Local 740

11105 NE Sandy Blvd
Portland, OR 97220

Glaziers, Architectural Metal & Glass Workers Local 740


For over 100 years the hard-working men and women of Local 740 have collectively worked to garner living wage jobs with family health care and pensions for retirement security for everyone working in the glass industry. As we enter our second century as a Trade Union, we look forward to the privilege of representing our members.


Our website is dedicated to making information accessible to our members and their families as well as anyone interested in the becoming part of the Glaziers, Architectural Metal & Glassworkers Union.

In time, we hope to have all of the forms, books, by-laws, wage rates and contracts available on the site in a printable or downloadable format for easy member use thus saving time and money as well as being more environmentally friendly.

There will be no private member information available on the website. However, we hope that by working your way through the site you will find the links, addresses, phone numbers, etc. to acquire the information you are seeking.

The office staff and representatives of Local 740 hope you find the website helpful and easy to navigate. Should you need further information you may call us at any time.
Follow Us

Facebook
Twitter
The next contract holiday is Monday September 5th, 2022 for Labor Day.
MEETINGS:
Monday August 28, 2022
@ 5 pm
Gateway Grill
3198 Gateway Street
Springfield, OR 97477
Tuesday August 29, 2022
@ 5 pm
Best Western Mill Creek
3125 Ryan Drive SE
Salem, OR 97301
** PORTLAND

**
Membership: Thursday August 4, 2022
@ 6 pm
BBQ in the parking lot beginning at 5pm.
E-board: @ 5 pm

Local 740 Meeting Room
11105 NE Sandy Blvd
Portland, OR 97220


Held the 3rd Thursday of each month:
Time: 11:30 a.m.
Place: Elmer's Restaurant
10001 NE Sandy Blvd
Portland, OR 97220

Questions?
Call Mike @ (971) 219-9979